Dr. Dean Clement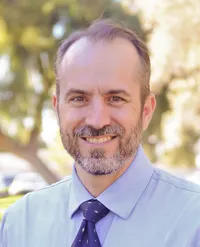 Dr. Clement graduated Mesa's Mountain View High School in 1990. He completed undergraduate studies at Brigham Young University and received his professional degree from the California College of Podiatric Medicine in 2002.
After completing his Residency in Podiatric Medicine and Surgery through the VA and Madigan Army Medical Center in Tacoma, WA, he worked as a civilian Staff Foot Surgeon at Madigan, where he served as the Assistant Residency Director and Assistant Clinic Chief. He was honored to treat many returning soldiers from the Iraq and Afghanistan wars for a variety of foot and ankle injuries, including combat trauma.
Dr. Clement returned to Arizona to begin private practice. Besides treating everything from ingrown toenails to broken bones and serious foot infections, he has unique experience with geriatric populations, underserved populations in Central and South Phoenix, and patients with difficult-to-heal wounds.
Dr. Clement is Board Certified in Foot Surgery by the American Board of Foot and Ankle Surgery.
Dr. Clement enjoys spending time with his family, running, hiking, camping, and writing.