There are many causes for Heel Pain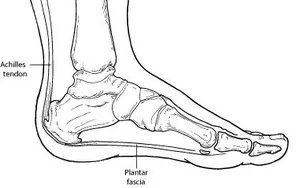 Use the guide below to help you determine what is most likely to be causing your heel pain, then follow the links to find out more about it.
For heel pain in grade school children, check out our Kid's Page.
Remember, this guide is not as good as a consultation with a Podiatrist. If you live in or near Mesa, Arizona and you're still unsure what your pain is or how to treat it, make an appointment to come and see Dr Clement. 

Identifying Your Heel Pain At Home
To best determine your condition, follow these steps:
1. Match the location of your pain to the correct part of your heel under the "By Location" section.
2. Match your symptoms to the descriptions under the "By Symptoms" section.
3. Click the Link to Learn More about What Is Causing Your Pain .
4. If you are not sure you have found the right diagnosis, schedule an appointment to be seen by a podiatrist. In or near Mesa, Arizona, schedule an appointment with Dr. Clement.
By Location:
Pain to the bottom of the heel: is most likely Plantar Fasciitis, Plantar Bursitis, or a Plantar Heel Spur. Less common problems include Neuritis (inflammed nerve) or Tarsal Tunnel Syndrome (compressed nerve near the ankle joint)
Pain to the back of the heel: is usually related to the Achilles tendon. It can either be Achilles Tendonitis, a Heel Spur, Achilles Bursitis, or a Haglund Deformity .
Pain to the cord above the back of the heel: Is usually Achilles Tendonitis. Achilles Strain or Achilles Rupture is also felt in this location.
Pain deep inside the heel: Is usually a Stress Fracture or painful Bone Cyst. Pain deep in the heel can also be Subtalar Joint Arthritis.
By Symptoms:
Pain worsens with first steps (after getting out of bed or standing up from sitting): Plantar Fasciitis is most common. Achilles Tendonitis is also common.
Pain worsens with longer time on your feet: Plantar Bursitis , Plantar Fasciitis , Achilles Tendonitis, Stress Fractures, Bone Cysts, Heel Spurs (either bottom of heel or back of heel)
Doesn't hurt while running, but does hurt after running: Plantar Fasciitis, Achilles Tendonitis