You're Not Alone!
Do thick, yellow, brown and brittle toenails got you down?
Do you avoid wearing sandals or heels because of the appearance of your toes?
Frustrated that your closed-toe shoes hurt your toes?
Ever tried treating with over the counter products?
Tired of soaking your toes in bleach, vinegar, or Vick's Vapo-Rub?

Ever wondered if you really have toenail fungus or if you've got something else?
Treating toenail fungus starts with the right diagnosis. We offer complete diagnostic evaluation of your toenail abnormality. Once we have the correct diagnosis, we can tailor a treatment that will work for you.
PAS Stain is a microscopic diagnostic tool that has proven to be the quickest and most reliable method of diagnosing toenail fungus.
Combined with Toenail Fungus Culture testing, we are able to get the most accurate diagnosis to tailor the most effective treatment for you.
Available treatments may include but is not limited to:
Cutting away the infected portion of nail
Treating with topical Urea and antifungal
Topical antifungal alone
Systemic antifungals (pills) such as Lamisil or Sporanox.
Athlete's Foot is an Infection
Itching, burning, blistering rash to the soles of the feet or between the toes? You may have Tinea Pedis, the scientfic name for the fungus infection that causes athlete's foot.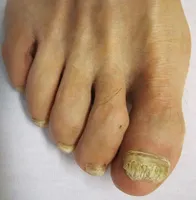 Hungry Little Buggers
Most fungus nail and skin infections are caused by Dermatophytes, a class of fungus that only infects the outer layers of skin (epidermis), feeding on keratin, the protein found in the outer layers of skin, hair and nails.